T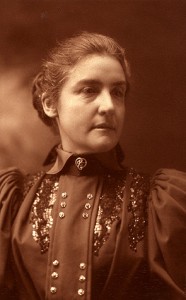 he only thing missing from last year's course, "History of Women's Higher Education," was a Ouija board. As a class, we spent part of the semester examining the various representations of M. Carey Thomas  through her letters, biographies, and first-hand student accounts. Often times, this would lead us to use these archival artifacts to muse about what her response might be to the Bryn Mawr of today. Still, I was tempted to sneak down to the cloisters and attempt to resurrect her formidable spirit.
Recently while reading the speech of M. Carey Thomas in Special Collections, I could not shake the feeling that Thomas had risen from the Cloisters, sans Ouija Board. I felt included—or more accurately, implicated—in the opening "I doubt the most imaginative and sympathetic younger women in this audience can form any conception of it means… to be able to say…the battle of the higher education of women has been gloriously, and forever, won."
Immediately, I focused on the fallacy of her absolutism of "forever won," but I would like to linger for a moment on the first half of this declaration. It is true that I cannot comprehend a time when the mere fact of my sex would prevent me from attending college, especially as an alumna of women's college with such a rich history. In some ways, this lacuna in my own memory speaks to Thomas' intrepidity and the work of all those who labored towards creating higher institutions which did not discriminate on the basis of sex.  While I cannot imagine wanting so desperately to learn Greek that I would rather die than be told of my innate inadequacies (as Thomas declares in her speech), it is the presence of this communal  memory –no matter how hyperbolic that it might seem to us today– that creates a responsibility to remember in whatever available medium.
The experiences of women who have struggled to eliminate gender biases in education cannot be fully comprehended today, but their memories, their words, and their notable silences are marked with a tangible urgency that defies temporality. While working on the Greenfield Archive, I look forward to sifting through the voices and discovering those fragmentary moments when the past does not seem so distant and can be briefly beckoned to the present.