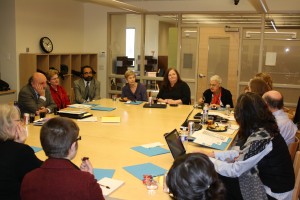 The project team of The Albert M. Greenfield Digital Center for the History of Women's Education was joined on Friday February 17th by all the members of its Advisory Committee, an amazing array of professional expertise, knowledge and scholarship on issues of the history of women's education.
The members of the committee include former Bryn Mawr College president, Nancy Vickers, who is now Treasurer of the American Council of Learned Societies, and current President Jane Dammen McAuliffe also joined the meeting.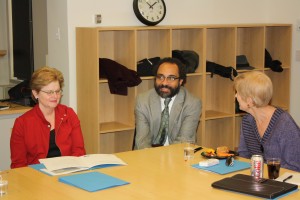 Anne Bruder, former CLIR fellow at Bryn Mawr College and editor of Offerings to Athena, now at Berea College, is also on the committee, and is joined by a number of eminent scholars who she collaborated with on the 125th Anniversary conference, Heritage and Hope, held in 2010. These include Helen Horowitz, Professor Emerita at Smith College and author of the biography of M. Carey Thomas, The Power and the Passion of M. Carey Thomas, which many of you will be familiar with, among other excellent books on women's experiences of higher education over the last two centuries. Also on our committee is Mary C. Kelley, Ruth Bordin Collegiate Professor of History, American Culture and Women's Studies at University of Michigan and author of many books on the history of women's education, my favorite being Learning to Stand and Speak.
The Committee also has a range of teaching experts, such as Christine Woyshner, a professor of education at Temple University who worked with us on the National History Day collaboration with Temple students (detailed in earlier posts by Lisa MacMurray and Teddy Knauss). Elizabeth di Cataldo is the archivist at the Bryn Mawr School in Baltimore, which as many of you know was set up by M. Carey Thomas and her associates to provide a high standard of education for young girls wishing to pursue higher education. As was said at the meeting, without the Bryn Mawr School there would be no Bryn Mawr College. An eminent Bryn Mawr College alum, Catharine Stimpson, a Professor in the English department at New York University and founding editor of the preeminent feminist journal, Signs, has also joined us on the Committee (click here for a transcript of her address at the Heritage and Hope conference http://www.brynmawr.edu/125th/conference/proceedings.html).
The Center aims to have an international outlook and outreach and for this reason Joyce Goodman of the University of Winchester, was invited on to the committee. The past president of the History of Education Society (UK) and the author and editor of a number of books on the international history of women's education, including the recent four volume Women and Education: Major Themes edited with Jane Martin, Joyce gave us some great ideas on how to expand our research questions into the history of women in the western world.
The Advisory Committee contains members of the Bryn Mawr College faculty and staff, some of whom helped to obtain the original grant funding from The Albert M. Greenfield Foundation, inlcuding Elliott Shore,  Chief Information Officer and Constance A. Jones Director of Libraries and Professor of History and Eric Pumroy, Director of Library Collections and Seymour Adelman Head of Special Collections. Bryn Mawr colleagues also include David Karen, Professor of Sociology & Chair of the Faculty, Katherine Rowe, Professor of English, Director of the Katharine Houghton Hepburn Center, and Director of Digital Research & Teaching and Ignacio Gallup-Diaz, Associate Professor of History.
It was a lively meeting in which the deeper research questions about the Center's mission were discussed alongside the most important themes in the history of women's education and we look forward to fruitful collaborations in the future. With our committee members expertise and ideas, we can now move forward with our plans to establish the Center as the primary site of knowledge, discussions and resources on the history of women's education. We hope to have all the committee back again for the conference we are planning for Spring 2013.
Watch this space for updates! And as always, if you have thoughts, get in touch…
With thanks to our resident technologist and now photographer, Cheryl Klimaszewski, for taking this collection of photos.