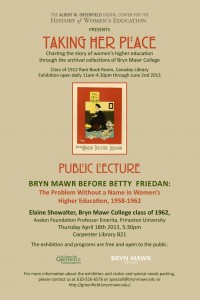 This is a reminder that The Albert M. Greenfield Digital Center for the History of Women's Education will host Professor Elaine Showalter, Bryn Mawr College class of 1962, Avalon Foundation Professor Emerita, Princeton University at Bryn Mawr College tonight. This is part of the Friends of the Library exhibition program in which we also hosted Professor Helen Horowitz to open the show.  Taking Her Place will run until June 2nd 2013, finishing with a series of dedicated tours as part of Alumnae Reunion Weekend.
Professor Showalter's talk is titled: "Bryn Mawr Before Betty Friedan: The Problem Without a Name in Women's Higher Education, 1958-1962″.
The talk will be held on Thursday April 18th 2013 at 5:30pm in Carpenter Library B21.
Professor Showalter's lecture will be followed by a reception at the Taking Her Place exhibition, Rare Book Room Gallery, Canaday Library, at 6.30pm. All are welcome to attend.
For directions to the campus, please see http://www.brynmawr.edu/campus/visiting.shtml
There is no need to RSVP, but please direct any questions you have about this talk to greenfieldhwe@brynmawr.edu and don't forget to follow us on Twitter for regular updates – @GreenfieldHWE