Join the Greenfield Digital Center and Bryn Mawr College Special Collections for our second Wikipedia Edit-a-Thon!
Our first edit-a-thon this past March was a collaboration with the "Seven Sisters" colleges for women's history month. This time around we're riffing on the theme, with a twist for October: we will be focusing on using materials from the College archives and manuscripts collection to enhance articles on women in technology in honor of Ada Lovelace Day and American Archives Month.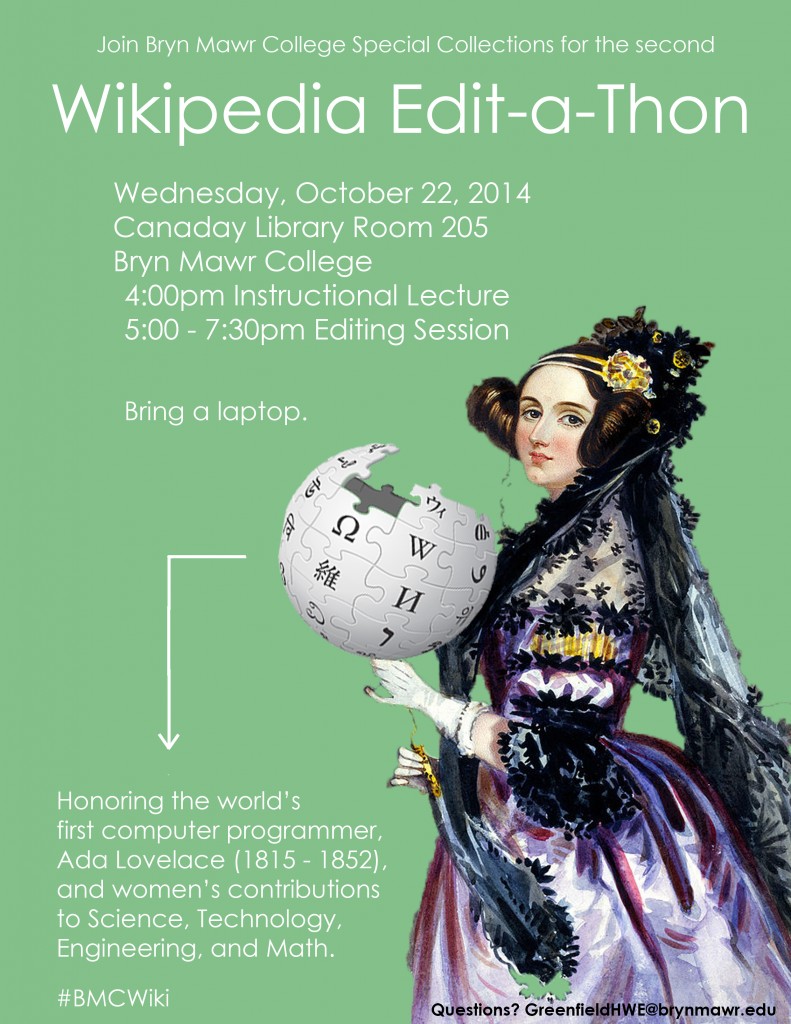 Who was Ada Lovelace?
Ada Lovelace was a female mathematician who lived from 1815-1852, and is often described as the world's first computer programmer. Though computers as we know them today obviously did not exist in her time, Ada is credited with writing the first algorithm for a programmable machine—Charles Babbage's "Analytical Engine," a theoretical design that would later form the basis for the first computers built in the 1940s. In today's male-dominated programming culture, it can come as a surprise that the first person to program a computer was a woman. However, Ada's contribution was merely the first in a long history of innovations and advancements by women in computing that have been omitted from the dominant historical narrative of technological development. (NPR did a recent piece highlighting Ada's work and tracing the history of women in computer programming. Listen here.) Women are discouraged from participating in technology today both by a culture that actively excludes them, and by the erasure of the long history of female involvement in and contributions to the field—an act of willful cultural ignorance that obscures potential role models from young women who are interested in pursuing work in computing. This is reflective of similar problems in the larger world of male-dominated STEM* fields. Every October, Ada Lovelace Day brings an opportunity for us to recognize the achievements of women in STEM.
Wikipedia Edit-a Thon 2014: Ada Lovelace and American Archives Month
At 4:00pm on Wednesday, October 22nd, Mary Mark Ockerbloom will join Bryn Mawr College staff, students, faculty, and members of the public in Canaday Library, Room 205 to give an instructional lecture on Wikipedia editing practices. The introduction will be followed by an editing session from 5:00 – 7:30 in which attendees can work on articles individually or in groups. The focus will be on women in STEM in the College archives, but participants are invited to bring their own projects or use the College collections to improve an article on any topic. Bring an idea, bring a friend, and bring a laptop and charger for editing. RSVP (optional but encouraged) on the Wikipedia project page or by emailing GreenfieldHWE@brynmawr.edu.
There is absolutely no experience necessary, though it is recommended for new editors that you create an account prior to the event. Attendees may feel free to come and go as needed. Snacks will be provided.
Can't make it in person?
Participate remotely! Work on a suggested article from this list, watch our progress and document your own on the etherpad document, and use the hashtags #BMCwiki, #ALD2014, and #ArchivesMonth!
Want to learn more about archives and the digital record? Come to our Personal Digital Archiving Day on Thursday, October 23rd—learn how to save your digital materials long-term!
*Science, Technology, Engineering and Math