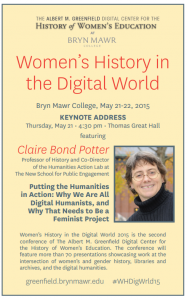 Preparations are in full swing for Women's History in the Digital World 2015, the second conference of The Albert M. Greenfield Digital Center for the History of Women's Education, which takes place this Thursday and Friday, May 21-22, at Bryn Mawr College. We are delighted to welcome more than 130 conference participants to campus later this week–including a number of presenters who joined us for the inaugural conference in 2013.
Over two days, conference panels will take us from Medieval Europe to the postwar Middle East to the twenty-first century women's college campus, and many points in between. To frame our work in feminist studies, we are pleased to be joined by historian Claire Bond Potter, Professor of History and Co-Director of the Humanities Action Lab at The New School. Her Thursday afternoon keynote, "Putting the Humanities in Action: Why We Are All Digital Humanists, and Why That Needs to Be a Feminist Project" builds on our shared interests in bridging fields. Barring technical difficulties, we are especially excited to be able to livestream the keynote address, scheduled for 4:30-5:30pm EST on Thursday. The keynote can be accessed at this link.
For those who are planning to attend the conference in person, directions to campus and maps can be found online, along with a campus access guide. Conference registration will open at 1:00pm Thursday, and 8:00am Friday in Thomas Great Hall (Thomas Library) at the center of campus.
As always, we will be publicizing our work over social media–in particular on Twitter–using the official conference hashtag, #WHDigWrld15. We hope to spur conversations on and off campus that can continue on until we meet again! Indeed, since the first Women's History in the Digital World conference in March 2013, we have seen consistent hits and new downloads of conference presentations from Bryn Mawr College's open access repository (http://repository.brynmawr.edu/conferences). What this tells us is that our work matters, and has use long after conference presenters depart.
As a way to archive and preserve the events of our second conference, especially for those who can't join us in person, we will again be giving all conference presenters the opportunity to share their materials in the digital repository after the conference ends, joining the permanent record of the 2013 conference. Stay tuned!
* * *
Women's History in the Digital World 2015 is funded in part by a grant from The Gladys Krieble Delmas Foundation, with funds from the Friends of the Bryn Mawr College Library, the Program in Gender and Sexuality, and Blended Learning in the Liberal Arts at Bryn Mawr College, supported by the Andrew W. Mellon Foundation.