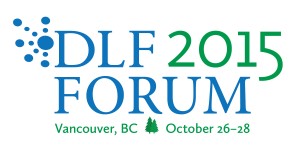 We're in beautiful Vancouver, BC this week for the Digital Library Federation Forum. On Tuesday afternoon, Greenfield Director Monica Mercado, Bryn Mawr College digital collections librarian Rachel Appel, and Vassar College Libraries digital initiatives librarian Joanna DiPasquale will be presenting a project update on our archives portal, College Women: Documenting the History of Women in Higher Education.
There's a few ways to follow along:
We're looking forward to presenting with the University of Virginia Scholars Lab project Take Back the Archive, a public history project created by UVa faculty, students, librarians, and archivists to "preserve, visualize, and contextualize the history of rape and sexual violence at UVa, honoring individual stories and documenting systemic issues and trends." How can digital women's archives work together and share in other conversations after we return to Bryn Mawr?