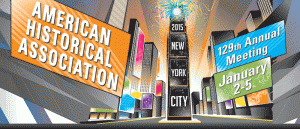 It's finals week at Bryn Mawr, which means that campus is getting quieter by the day. But for historians like me, the December break also requires getting ready for the American Historical Association (AHA) annual meeting, held the first weekend of the new year. On Sunday, January 4, I'll be chairing a fantastic session organized by Penn State graduate student Kathryn Falvo, featuring work at the intersection of women's and gender history and the digital humanities. We'll be joined by new University of Virginia Ph.D. Tamika Richeson, and Dr. Wendy E. Chmielewski, George Cooley Curator of the Swarthmore College Peace Collection. Set your alarm clocks: we're scheduled for a 9am start, discussing topics central to the Greenfield Digital Center's mission:
AHA Session 159: Can DH Answer Our Questions? Using Digital Humanities to Address the Concerns of Feminist Historians
Reflecting on her work on women who ran for office prior to 1920, Wendy Chmielewski questions the gendered aspects of digital research and presentation. Does digital research help scholars craft better or more complex questions about our historical subjects or create a different historiography? As a digitized medium becomes standard, questions of methodology, funding, and presentation are of the utmost importance. Tamika Richeson's presentation will explore a DH project she has been working on that uses Omeka and Neatline to look at over 450 arrests of black women in Washington D.C. from 1830-1867. Tamika is concerned with placing these black women's arrests in a larger digital narrative – one which can help historians access the lives of lower class black women in a way that traditional methodologies cannot. Similarly, Kathryn Falvo examines the lives of traveling Quaker women in the nineteenth century by using another mapping tool, ArchGIS. By tracing these women's lives through their movements, we can better understand the role of female ministers within the Society of Friends and their lived experience as ministers. Here, too, mapping technologies facilitate an understanding of lived experience that more traditional methodologies cannot accommodate. Can DH methods accommodate the questions that feminist historians seek to answer?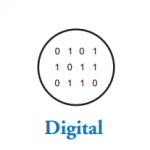 Our session is just one piece of a terrific slate of digital history opportunities at this year's AHA, and I'm looking forward to a long weekend of good conversation and learning about new projects and tools.The conference has a brand-new smartphone app that will guide users to all things digital (check out the snappy logo, left). And if you're planning to be in New York, there are still opportunities to present and meet outside of the formal panels: one of the first receptions of the conference is the now-annual reception for history bloggers and #twitterstorians on Friday, January 2, and the AHA recently posted a call for Digital "Lightning Rounds" on Saturday, January 3.
But there's more!

With the support of AHA Director of Scholarly Communication and Digital Initiatives Seth Denbo, and historian Claire Bond Potter at The New School for Social Engagement, at the conclusion of the meeting we'll be gathering for THATCamp AHA on Tuesday, January 6. Along with co-organizers Dan Royles and Shane Landrum, I'm excited to welcome both digital history veterans and newcomers to The New School for a day of unconferencing that will include a handful of prescheduled workshops on topics ranging from social media to social justice. Slots for THATCamp are filling up quickly–register here!
* * *
Speaking of conferences, we're also busy these days on the receiving end of paper and panel proposals for the Greenfield Digital Center's next conference, Women's History in the Digital World, scheduled for May 21-22, 2015. The deadline for submitting a proposal is one month away — Friday, January 16 — so do contact the Center via email, leave a comment below, or catch me at AHA if you have questions or ideas (find our CFP, here). Can DH answer our questions? We'll have lots of opportunities in the coming months to find out.