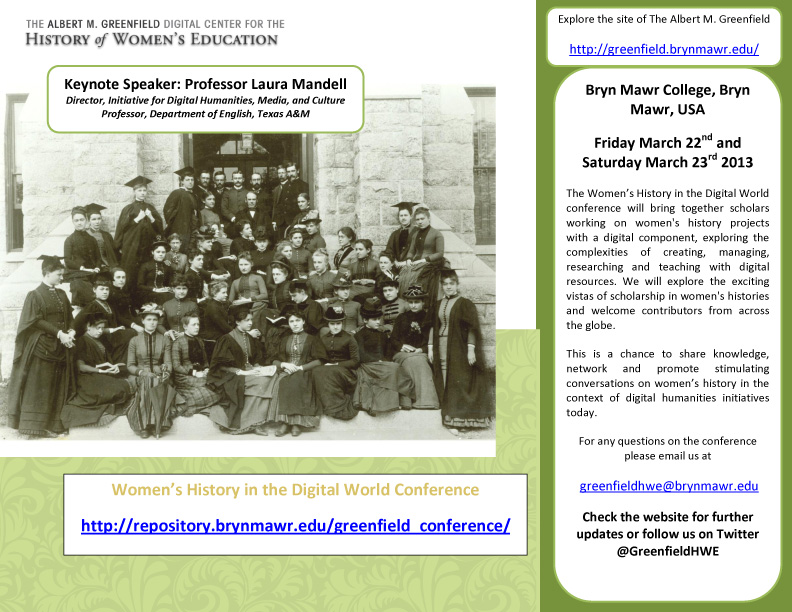 It's almost time for the inaugural conference of The Albert M. Greenfield Digital Center for the History of Women's Education!
Women's History in the Digital World offers a packed schedule of digital humanities projects that focus on women's history. Participants are coming from across the US and the world to showcase their work, share information on tools, research, funding and practices, and most of all, meet each other in an environment wholly dedicated to women's history issues in the digital era. Members of The Albert M. Greenfield Digital Center for the History of Women's Education and its Advisory Board members will be in attendance to inform you about our work and our future plans.
Our keynote speaker, Laura Mandell is Director of the Initiative for Digital Humanities, Media, and Culture and Professor of English at Texas A&M University. She is the author of Misogynous Economies: The Business of Literature in Eighteenth-Century Britain (1999), a Longman Cultural Edition of The Castle of Otranto and Man of Feeling, and numerous articles primarily about eighteenth-century women writers, and Breaking the Book (forthcoming). She is Editor of the Poetess Archive, on online scholarly edition and database of women poets, 1750-1900, Director of 18thConnect, and Director of ARC, the Advanced Research Consortium overseeing NINES, 18thConnect, and MESA. Professor Mandell will speak on 'Feminist Critique vs. Feminist Production in Digital Humanities'.
Registration is open and you must register online if you are planning to attend the conference by going to the registration page of the official conference website. It's not too late to register! Registration fee is just $30 and this gives you access to the full conference, including the keynote and reception on Friday, all panels, coffee breaks and lunch on Saturday and a special closing reception at the gallery in Canaday Library to see Taking Her Place,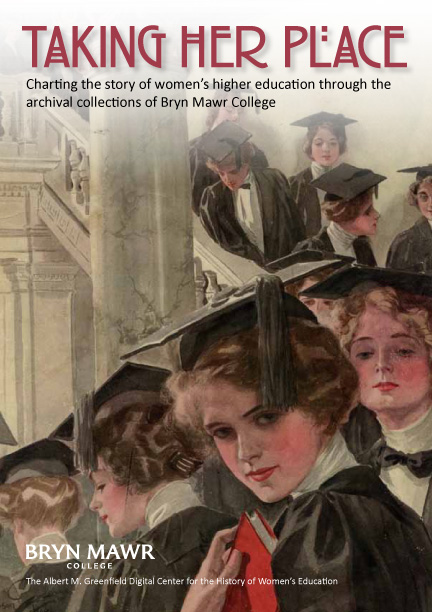 a show curated by The Albert M. Greenfield Digital Center for the History of Women's Education. This will give conference attendees a final chance to engage with each other, view the collections of Bryn Mawr College, and wind down after a productive and fruitful gathering.
Don't forget that, as advertised on the official conference website, we are also offering a free tour of campus at 3.30pm on Friday March 22nd before the conference begins. If you would like to attend the tour, please email greenfieldhwe@brynmwar.edu with 'RSVP Tour' in the subject line of the email.
Presenters at the conference are offered the ability to upload their presentations and related material to our institutional digital repository so they can be shared afterwards.
Our official conference hashtag is #WHDigWrld so if you're coming to the conference don't forget to promoted and follow the conversation using it, and as always, don't forget to follow us on Twitter @GreenfieldHWE
For any queries about the conference, including registration, please email greenfieldhwe@brynmawr.edu. For specific queries about the work of the Center, please email the Director, Jennifer Redmond, at jredmond@brynmawr.edu
Come join us – we look forward to seeing you!