Previous blog posts have mentioned the exciting work we have been doing on the oral history tape collection of materials. Lucy Fisher West, College Archivist, described early the aims of the project as offering those interested in women's history and the history of the college another source to draw on in addition to the written records the college possesses. From 1981 onwards the oral history project was managed by Caroline Rittenhouse.
The following observations are by Isabella Barnstein, BMC '14, who has worked on digitizing the collection over the last semester, finalizing an electronic version of the catalog and digitizing the related letters, release forms and transcripts….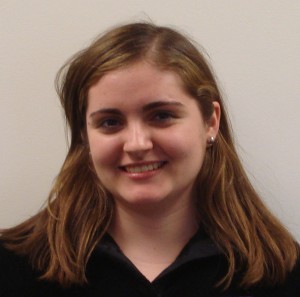 important work to preserve this fantastic collection into the future….
Over the past few weeks I've been privileged to survey Bryn Mawr's Oral History Project, a collection of interviews bringing the former college to life.  Recorded in the 1970's and 80's, the tapes are remarkable for their candor, depth, and humor:  thorough descriptions of professors and classes, visits by famous personages including President Taft and the Queen of Belgium, exploits of first-president M. Carey Thomas, a first-person account by Katharine Hepburn.A voice bringing M. Carey Thomas to life is that of Millicent Carey McIntosh'20, not only Thomas's niece but also Barnard College president, distinguished in her own right. McIntosh recalls early memories of her aunt with laughter followed by a vivid account of life as a student under Thomas's command.We learn that M. Carey Thomas was famous for chapel talks held in Taylor, favorite topics of which were frequent foreign adventures.
Thomas bribed her way into then-male-only sanctuaries such as the Taj Mahal, and bathed thanks to an always carried rubberized bathtub. Through these tapes, we learn that M. Carey Thomas not only encouraged her young charges to break with tradition in terms of social acceptability, but also acquire passion for learning.  Thomas further believed that educational opportunity is accompanied by social responsibility and tried to instill these values into the students of Bryn Mawr.  Such stories of early women's education are especially relevant today in light of recent discussion concerning the very existence of women's colleges.
This work is currently being continued by Special Collections student worker Amanda Fernandez – check back on this blog for another update later in the summer.