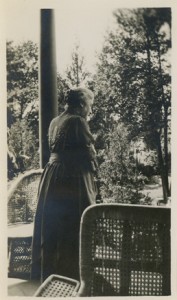 Many people are interested in the papers of M. Carey Thomas, not just to explore the details of her own life, but because of the numerous famous people she hosted at the college and her voluminous correspondence with notables of her day. The above photograph shows Thomas standing on the verandah of the Deanery, her home for over five decades of her life. A history and guide to the Deanery has been digitized and can be found in Bryn Mawr College's new institutional repository by clicking here.
The index or finding aid to her papers at Bryn Mawr College Special Collections was created when this archival material was committed to microfilm, and we have now digitized the index to make it even easier to search her correspondence. Although this collection is relatively well known, we hope it will become even more so now that you can search the descriptions of the materials online.
Using Triptych, you can now perform word searches of the many letters she wrote and received and which can be viewed either in their original form by coming to the Special Collections Reading Room or you may view them on the microfilm machines in Canaday Library or through ILL. To request material, just pay attention to what Reel Number is indicated as this corresponds with the relevant box of original material.
The M. Carey Thomas index can be found in the 'Finding Aids' section of the Triptych site and there are three different listings by which entries can be searched: the Author Index, the Reel Listings and the Author/Recipient Index.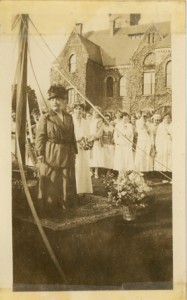 The Author Index details the correspondence Thomas had with others and gives descriptions of the letters in the folders, such as the below screenshot describing correspondence with Mary Garrett in 1894-5 regarding her health and financial matters. Searching this way will allow you to pinpoint more specifically what letters you may wish to view; Thomas' correspondence with certain people is extensive and this will assist you if you wish to focus just on a certain period of letters or those from a particular person. As part of our work we have been digitizing and transcribing the letters between Mary Garrett and Thomas and this will form part of the digital collections of The Albert M. Greenfield Digital Center for the History of Women's Education site (see previous post by Amanda Fernandez '14 on the Educating Women blog, 'From frustration to fascination' which describes her work on this part of the project).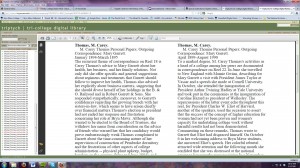 The Reel Listings are in chronological order and begin with material relating to Thomas' early life as a child and include letters and materials related to her family.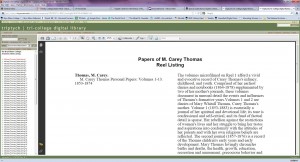 For those interested in her formative years, this material includes papers from her mother, Mary Whitall Thomas, describing her personal reflections on religion and women's place in society, and her journal detailing the Baltimore life of the Thomas household. This material gives us a glimpse into her personality and helps us to understand somewhat where Carey Thomas received her belief in women's independence and the possibilities for a woman's role outside domestic concerns.
A selection of this early material from Thomas' childhood is currently being transcribed by volunteer Joanne Behm, a Bryn Mawr College alum, and a blog post on some of her findings will follow soon on the Educating Women blog so check back for more details. Many of the early letters between Thomas and her cousins are richly illustrated with their childhood drawings and will also be digitized and made available to view online as part of our digitized collections.
Finally, the Author/Recipient Index allows you to search if you know the name of the person corresponding with Thomas, and this will direct you to the reel/box numbers where you can find their letters (note: you will find letters arranged by year and thus correspondence over time from the same person can often be found in multiple boxes)
A note on the limitations of this method of searching: it is often necessary to know the exact name of a person as names of organizations are not always listed, so for example, you may need to know the exact name of the Secretary or Treasurer of an organization in order to find letters relating to them. There are also precautionary tactics needed when searching for correspondents who married whilst Thomas was writing to them as seen in the screen shot below.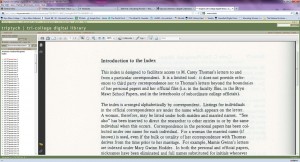 Despite these limitations, the possibilities afforded by online searching of this catalog greatly increase the likelihood of you finding the letters that you wish to and it is much easier to use than the hard copy.
Our thanks are due to digital project assistant Jessy Brody for digitizing the materials and digital collections specialist Cheryl Klimaszewski for her work on Triptych.