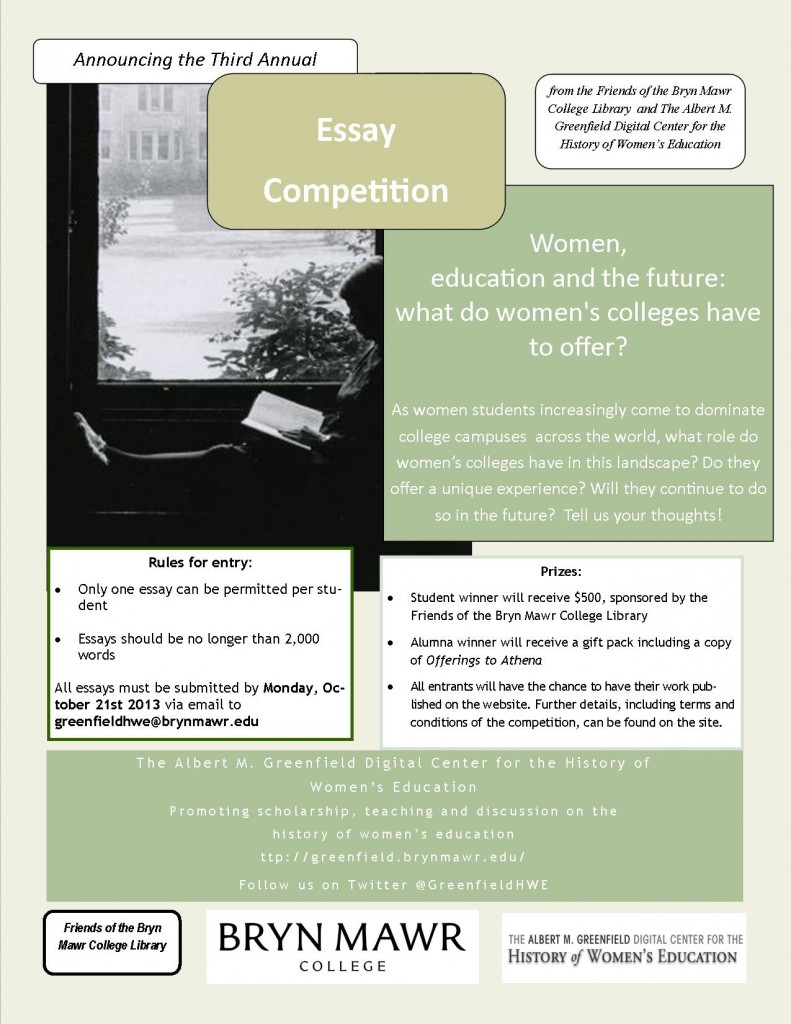 It's that time again…. we are announcing the third annual essay competition of The Albert M. Greenfield Digital Center for the History of Women's Education, kindly sponsored by Friends of the Bryn Mawr College Library. As with last year, there are two categories of winners: current students and alumnae.
The title this year is: "Women, education and the future…. what do women's colleges have to offer?"
With the number of women's colleges declining on a yearly basis, this year's essay competition asks you to reflect on what role existing women's colleges may play in women's lives in the future. Will the trend in converting to coeducational institutions continue? Do women's colleges offer a unique enough experience to survive? What are their particular strengths as we look towards the demands of the future on women? Will they fuel women to inhabit leadership roles on a larger scale or will they cluster women in certain sections of the economy and political life? As always, you are welcome to take this title as a prompt for your own thoughts and opinions and you are free to offer positive or negative predictions for the fate of women's colleges. We intend this title to be expansive, to include reflections on education, employment, societal norms, women's leadership … anything you wish to address with regard to the role that women's colleges may play.
So, if you would like to have your say then we want to hear it! Your essay will be published on the site of The Albert M. Greenfield Digital Center for the History of Women's Education and the winner of the undergraduate section will receive a $500 cash prize; the winner of the alum section will win a selection of prizes, including a copy of the college history, Offerings to Athena. The competition is open to all current undergraduate students of Bryn Mawr College and the closing date for entries is October 21st 2013 so hurry up and get writing!