Women's History Conference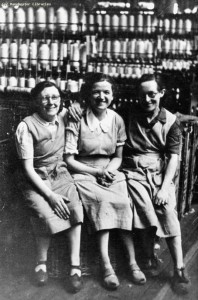 Saturday 23 November 2013
10am – 5pm
Venue:  Three Minute Theatre, Afflecks Arcade, Oldham Street, Manchester
Conference fee: £10/£5
Programme

10am -10.30am  Registration
Morning Session 10.30am – 1pm
Introduction and welcome
Women, Politics  and Music
Chair: Bernadette Hyland
Speakers: Claire Mooney and Alice Nutter
Alice was a member of Chumbawamba. She now writes for the radio, TV and the theatre
Claire is a  Manchester-based singer-songwriter and community arts worker
Women as Political Activists
Chair: Chris Clayton
Sonja Tiernan – Delia Larkin and Women in the 1913 Dublin Lockout
Michael Herbert –  Sarah Parker Remond, Black American Anti-Slavery Lecturer

Sonja is the author of Eva Gore-Booth,  "an image of such politcs"
Michael is the author of "Up Then Brave Women": Manchester's radical women, 1819-1918
Lunch 1pm – 2pm (not included
Afternoon Session 2pm – 5pm
Women  as Political  Activists (2)

Chair : Michael Herbert
Alan Fowler – Alice Foley, Bolton trade unionist

Rae Street and Nick Wilding –   Enid Stacy, Socialist, Feminist,
Campaigner and Clarion Vanner

Alan Fowler is  a retired lecturer and author of Lancashire Cotton Operatives and Work 1900-1950

Rae Street has been a peace campaigner since the 1980s. Nick Wilding is a film-maker.
Panel Discussion  on Socialism and Feminism
The debate on the relationship  between class and gender, socialism and feminism has gone on  for more than  a century and  continues to this day. Our conference will finish with a discussion on these issues, introduced by our two speakers.
Chair : Bernadette Hyland
Speakers : Lindsey German and Louise Raw
Lindsey is the author of Sex, Class  and Socialism  and How a Century of War Changed the Lives of Women
Louise is the author of Striking a Light: The Bryant and May Matchwomen and their place in history and organiser of the Matchwomen's  Festival
More information; redflagwalks@gmail.com