Long-time followers of the Digital Center will recall that after her two years of outstanding leadership, our former Director, Jennifer Redmond, elected to depart last fall in order to pursue a position in the Department of History at the National University of Ireland, Maynooth. After a carefully considered search, we are eager to announce that we have found our next Director and we are excited to welcome her this coming summer!
Monica Mercado will complete her Ph.D. in U.S. Women's History at the University of Chicago this spring. With a background in women's history, museum studies, and archives, Monica is already deeply engaged with many of the subjects that are germane to the work of the Digital Center. Her previous topics of focus have included, among others, religious history, feminist and queer history, the history of the book, and women's educational history and practices. (For examples of Monica's recent work, see the links at the bottom of this post.) Her work has often interrogated the extent to which marginalized voices are either preserved or silenced both in their contemporary environments and in the historical record, a topic that increasingly informs the work that we are doing here at the Digital Center and which we intend to pursue further.
We first became acquainted with Monica through our inaugural conference last spring, Women's History in the Digital World, at which we convened nearly one hundred scholars, students, independent researchers, archivist, librarians, technologists and others who were engaged with digital work in the fields of women's and gender studies. She has remained one of a vibrant group of conference attendees who have continued to converse, through social media and other outlets, about the crucial presence of scholars in these disciplines in digital spaces. Monica agreed to share some words here: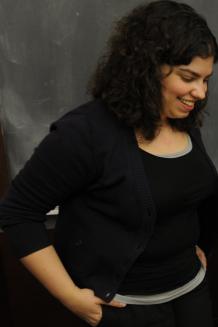 Over the last year I have found the Digital Center to be an incredibly useful resource for my work with University archives in Chicago. Women's History in the Digital World introduced me to new colleagues across the humanities, in academic departments, libraries, archives, and elsewhere, who are building exciting new projects in women's and gender history using digital tools and contexts.
I am thrilled to join the Digital Center as its next Director, and to continue the work that makes Bryn Mawr an important place for taking seriously the future of women's history. I look forward to organizing programs building on the Digital Center's inaugural conference, reaching out to both existing audiences — from whom I have learned so much — as well as to audiences new to digital history — students and more advanced scholars who can look to the Digital Center's online portal as a resource for developing new projects, or figuring out social media in the age of the #twitterstorian. Some of my most rewarding experiences at the University of Chicago have resulted from creating opportunities for undergraduate students to get involved first-hand with archives and community history, and I hope to expand upon these opportunities online and in the classroom at Bryn Mawr, where I will design and teach courses for the Department of History. And as a Barnard alumna, I'm eager to pursue new research and collaborative ventures that further uncover the histories of women's education in women's institutions.
See the links below to learn more about Monica and her work. We look forward to welcoming her in July, 2014, and opening a new phase of exciting work for the Digital Center.
Monica's blog: http://monicalmercado.com
"A Desire for History: Building Queer Archives at the University of Chicago" (2013)
University of Chicago LGBTQ History Project tumblr (2012-present)
Religion in American History blog (contributor, 2013-present)
On Equal Terms? The Stakes of Archiving Women's and LGBT History in the Digital Age (presented at Women's History in the Digital World at Bryn Mawr College, March 2013)
'On Equal Terms' – Educating Women at the University of Chicago (co-authored with Katherine Turk, 2009)