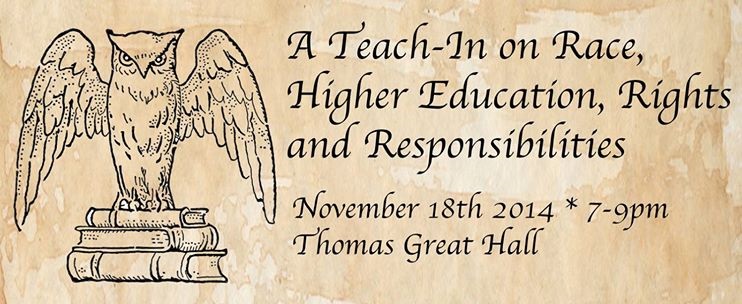 On Tuesday, November 18 from 7 to 9pm, I joined members of the Bryn Mawr community for a Teach-In on Race, Higher Education, Rights and Responsibilities in Thomas Great Hall. The Undergraduate Dean's Office sponsored presentations and conversations around the following topics:
History of the Confederate flag and its current repercussions in U.S. society and politics, Sharon Ullman, Professor of History and Director of Gender and Sexuality Studies
Race and higher education, Monica Mercado, CLIR Postdoctoral Fellow and Director, The Albert M. Greenfield Digital Center for the History of Women's Education
Bryn Mawr's history with regard to race and diversity, Florence Goff, former Associate Chief Information Officer and Equal Opportunity Officer
Navigating the rights and responsibilities of free speech, Mary Catherine Roper BMC '87, Senior Staff Attorney, ACLU Pennsylvania
Well-being, accountability, and living in a diverse community, Reggie Jones, Counseling Service Director, Student Health Services
updated 11/25/14
A recording of the talks has been made available online by the Undergraduate Dean's office. [link to audio]
We have collected tweets from that night in our Storify account. [link]
For further reading on the topics of race and elite higher education, I suggest the following:
Biondi, Martha. The Black Revolution on Campus. Berkeley: University of California Press, 2012. [link to tripod]
Perkins, Linda M. "The African American Female Elite: The Early History of African American Women in the Seven Sister Colleges, 1880-1960." Harvard Educational Review 67.4 (1997): 718-756 [link to PDF] and "The Racial Integration of the Seven Sister Colleges" The Journal of Blacks in Higher Education 19 (Spring 1998): 104-108. [link to JSTOR]
Wilder, Craig. Ebony and Ivy: Race, Slavery, and the Troubled History of America's Universities. New York: Bloomsbury Press, 2013. [link to tripod]
On the notion of higher education as a political project, I have been influenced by the activist Dean Spade. His April 2014 talk at Barnard College, Trans Students and Women's Colleges, lays the groundwork for my Teach-In remarks on the founding of colleges and universities in the colonial era and reminds us of the intersectionality of questions about equity and access.
To Spade's notion of higher education as a political project, I add Jacquelyn Dowd Hall's 2005 essay, "The Long Civil Rights Movement and the Political Uses of the Past," suggested by historian Lara Kelland. Colleges and universities, I argued, are sites of history and memory. For example, a number of the first elite institutions of higher education in the U.S. are beginning to pursue projects that uncover invisible histories of slavery and colonialism:

At Bryn Mawr, Greenfield Assistant Director Evan McGonagill, Class of 2010, explored these topics in her February 2014 blog post "'College Tackles Racism and Classism' in 1988: Learning from a Quarter Century of Conflict over Campus Diversity."
For a recent digital project exploring the histories of students and staff of color on campus, visit A Point of Difference: Diversity at Bryn Mawr College, created by students Lauren Footman, Class of 2014, and Alexis de la Rosa, Class of 2015.
These resources only scratch the surface of our diverse and often difficult histories. We welcome your thoughts and questions in the comments below.