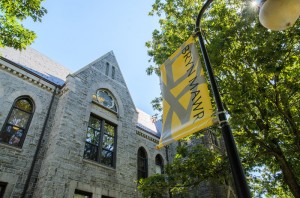 Most of our past reflections on the relationship between our digital mode and the content we publish have been concerned with how different platforms influence the messages we craft. However, we haven't given as much space to the equally interesting matter of how the culture surrounding digital tools resonates with aspects of our subject matter.
In September, Joshua Kim published an article in Inside Higher Ed entitled "Is Digital Culture Changing Academic Culture?" In the piece, Kim reflects on the contrast between "digital culture," which he characterizes as rapidly-evolving and experimental, and the "solid and stable" nature of traditional academic culture. Each holds apparent value: the agile and non-hierarchical nature of digital culture allows for exciting collaborations to arise, stoking innovation, while the long-reaching histories of established universities lend "a foundation on which to build." As digital scholarship percolates in institutions of higher education, conflicts (or at least growing pains) can arise, but Kim argues that despite the apparent incongruity, universities could reap great benefits by incorporating some of the aspects of digital culture that initially seem at odds with their tradition-oriented culture.
The article has stuck with me in the last few months as I've considered Kim's point in relation to how schools address issues of social inequality on campus. Academic culture benefits from stability for many reasons, and tradition can be an integral and important part of educational experience (just ask a Mawrter). But there are ways that this constancy can feel like entrenchment that reach even beyond the domain of digital versus analog scholarship. Kim's reflections on digital culture reminded me of current ongoing dialogues both in and outside of the academy on difficult issues such as race, gender, and sexual assault; issues in which rapidly evolving approaches to inclusion and identity run up against deeply ingrained societal problems.