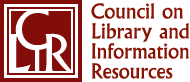 Earlier this month, I spent 10 days at the Council on Libraries and Information Resources/Digital Library Federation (CLIR/DLF) postdoctoral fellows orientation seminar, an experience many of us fondly termed "library boot camp," and others "Hogwarts School of Data Curation and Wizadry," given the setting here at Bryn Mawr. In its tenth year, the CLIR/DLF postdoctoral fellows orientation gave twenty-seven new fellows (the biggest cohort yet!) an introduction to theories and methods in library and information studies, and data curation. As recent Ph.D.'s in fields ranging from comparative literature to biomedical informatics and everything in between, we'll be taking a diverse array of positions in academic libraries across North America.
Our 2014 summer seminar agenda lives online at the CLIR website, and many of the presenters made their slides and notes publicly available, including:
Do you see a theme? Data, data, data. There's a lot of it. For the non-scientists in the room, Allan Renear, Dean of the Graduate School of Library and Information Science at the University of Illinois at Urbana-Champaign stated it bluntly: "Humanists have really difficult data challenges." Luckily we had help:
How much has changed, I thought, as we toured Bryn Mawr's Thomas Great Hall (once, the College's main library, now, a campus gathering space). Or has it? Seminar leaders Elliott Shore and Lauren Coats reminded us of the role of libraries as service providers, even when the kinds of services needed are changing.
Still, I couldn't help wondering, who are we serving?