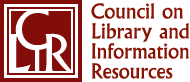 Earlier this month, I spent 10 days at the Council on Libraries and Information Resources/Digital Library Federation (CLIR/DLF) postdoctoral fellows orientation seminar, an experience many of us fondly termed "library boot camp," and others "Hogwarts School of Data Curation and Wizadry," given the setting here at Bryn Mawr. In its tenth year, the CLIR/DLF postdoctoral fellows orientation gave twenty-seven new fellows (the biggest cohort yet!) an introduction to theories and methods in library and information studies, and data curation. As recent Ph.D.'s in fields ranging from comparative literature to biomedical informatics and everything in between, we'll be taking a diverse array of positions in academic libraries across North America.
Our 2014 summer seminar agenda lives online at the CLIR website, and many of the presenters made their slides and notes publicly available, including:
Do you see a theme? Data, data, data. There's a lot of it. For the non-scientists in the room, Allan Renear, Dean of the Graduate School of Library and Information Science at the University of Illinois at Urbana-Champaign stated it bluntly: "Humanists have really difficult data challenges." Luckily we had help:
How much has changed, I thought, as we toured Bryn Mawr's Thomas Great Hall (once, the College's main library, now, a campus gathering space). Or has it? Seminar leaders Elliott Shore and Lauren Coats reminded us of the role of libraries as service providers, even when the kinds of services needed are changing.
Still, I couldn't help wondering, who are we serving?
CLIR's own description of the academic library fellowship program describes its goals "to prepare a new generation of librarians and scholars for work at the intersections of scholarship, teaching and librarianship in the emerging research environment." Over the course of the ten-day seminar, those of us working at smaller institutions, expected to organize digital humanities centers and provide instructional support — and a few, like me, even teaching — considered whether the notion of the academic library user was being taken for granted, or narrowly defined as tenure-track faculty researchers. Where, we asked, did pedagogy fit in to assessment of project goals? Could the definition of research include teaching? We were talking so much about "big data," and we still had big questions.
With these issues in mind, perhaps one of the most enlightening parts of the seminar for me was our day trip to Penn Libraries, home to a number of CLIR/DLF fellows, past and present. Hosted by the Kislack Center for Special Collections, Rare Books, and Manuscripts, we met faculty and staff project leads for a number of current projects, providing useful models for creating undergraduate research experiences.
Rachel Buurma (Swarthmore College) and her students presented the Early Novels Database, which joins "twenty-first-century database and search technologies with the sensibility of eighteenth-century indexing practices," creating rich metadata in the process. (For an example of one of her summer interns' work, see the TriCoDH blog.) Will Noel, Director of the Special Collections Center, showed us the YouTube video students from a first-year undergraduate seminar made as part of exploring a 15th-century manuscript. Together, we considered making instructional spaces into collaborative classrooms, and discussed expanding the notion of the library user.
Former CLIR fellow and current supervisor Marta Brunner (UCLA) summed up her experience visiting with us in a recent blog post "Challenges and Cohorts." She concludes that the CLIR/DLF postdoctoral fellowships
enable host institutions to work on local projects and challenges with an eye toward a much broader network of institutions. That is not to say that CLIR fellows should be tasked with finding "universal" fixes to big problems. Instead, perhaps our goal with CLIR fellows should be to have them working on projects that are local but measurably extensible, transferrable, or comparable to related efforts at other institutions. Because the fellows, and now the supervisors, have a North America-wide network of colleagues to collaborate, debrief, and brainstorm with on a regular basis, our local work can more easily be connected to a larger context. It makes me think that we should take a "Lego" approach to our CLIR fellows' work; that is, we want to aim for being able to build something unique and imaginative on our own, but we always want to be able to connect with someone else's bricks or reconfigure our collective bricks into something new later.
Marta's words remind me that the orientation seminar was just the beginning; as exhilarating and exhausting as it was, I return to the Greenfield Digital Center motivated to consider how I support teaching and research at Bryn Mawr, and how to balance that with providing resources and sparking discussion within a larger community of users interested in histories of women's education, and digital histories of women more broadly.
The CLIR/DLF fellows will next meet at the Coalition for Networked Information fall meeting in December. For a visualization of CLIR's reach in 2014, check out this map — it's exciting to be part of a group so interested in the future of academic libraries.
Interested readers can also follow the comprehensive Storify of our time together, created by Jessica Otis, CLIR DLF Fellow at Carnegie Mellon, following the #clirdlfpfp hashtag.
If you're a graduate student or recent Ph.D. interested in learning more about the postdoctoral fellowship program, visit the CLIR website, or get in touch with me. The application process for the 2015 fellowship cohort will be announced in the fall.