This blog post brings news that is both sad and exciting for me… after a very productive, educational and inspirational time as Director of The Albert M. Greenfield Digital Center for the History of Women's Education, I will be moving on as of September 25th 2013. I will be taking up a new faculty post at the National University of Ireland Maynooth in the history department. I have thoroughly enjoyed my time at Bryn Mawr and have learned a lot, getting to immerse myself in the world of digital humanities while pursuing my love of women's history – bliss! I will be able to continue my work blending digital humanities with pedagogy in my new role and look forward to integrating much of what I've learned here.
I especially enjoyed connecting with so many wonderful colleagues on Twitter, some of whom I was lucky to meet in person at the Women's History in the Digital World conference last March (for a report on the conference click here).  The digital repository that resulted from the conference continues to remain popular: it now holds 42 records, which have been downloaded a total of 482 times to date. I do get to remain connected to the Center, however, as I will be joining the Advisory Board. In this capacity I hope to help advise the new Director and to assist in moving the Center on to its next phase of development.  The Center has been my focus over the last two years and I am delighted to be able to remain a part of its future. The Center's growth has been tremendous – we now have 1252 items on the site, and since its launch in September 2012, the website has been viewed by over 41,000 people. The blog, Educating Women, has had over 25,000 page views and continues to attract new followers – be sure to keep up to date with news from the Center by visiting the blog regularly.
This news means that the role of Director is open and ready to be filled by someone willing to take on the exciting challenges of running a digital center. If you are interested in progressing the work of the Center, or you know someone who would be ideal for the role, be sure to share the job description and encourage them to apply. You can find all details related to the application procedure here in this document and we have announced it on Twitter and some of the major academic listservs – please feel free to share it on your own networks.
As part of my work since returning from maternity leave I have completed two new research based exhibits for our site which are being finessed in their formatting but will appear in the next few days. These had been on my to-do list for quite a few months and I am delighted to have completed them at last! The first, looking at the Summer School for Women Workers that began at Bryn Mawr College, looks at the history of this labor education initiative that was subsequently replicated by Barnard College among others. The Summer School was an idea conceived by M. Carey Thomas at the end of her tenure as president of Bryn Mawr College. As the exhibit reveals, she was inspired with the idea of utilizing the prestigious college campus for education programs for factory workers after hearing of the news that Britain had passed suffrage legislation. Thomas' sense of feminism led her to ponder how women who had achieved social and political change (such as suffrage) could assist their sisters. The Summer School was directed by Hilda Worthington Smith, a Bryn Mawr alum and social work pioneer. The school was the subject of a documentary, The Women of Summer by Rita Heller (available for viewing if you have access to the VAST Academic Video Online database) and was also featured in the Taking Her Place exhibit as an example of the history of Bryn Mawr in opening the campus up to non-traditional groups or students who were not conceived of in Joseph Taylor's original plan for the college.
The second exhibit is on M. Carey Thomas herself. I talked about this research as it was in progress at the Women's History in the Digital World conference and the Mediating Public Spheres: Feminist Genealogies of Knowledge conference and produced this reflective piece on her and on using the Omeka exhibit format. I was interested to study Thomas from multiple angles in an attempt to reveal different truths about her, positing that there is no single 'Truth' to be known about her (or anyone). For this exhibit I used her own words from different periods of her life, the words of her close friends, professional associates and colleagues all of which offer different insights into her personality. I have also featured her published writings on topics in women's education, many of which appeared as a result of public speeches she gave and illustrate her profile during her lifetime as one of the foremost advocates of women's access to education and the professions. You can access the exhibit by clicking here on the Center's exhibit collection (it will be live in a few days).
A final reflection on the current state of women's history in the US wraps up this post. Having spent much time over the last few months processing membership applications to the Coordinating Council for Women in History, I was struck by the breadth of interests that members have. On the application form members are asked to fill out three key words that represent their historical research interests, and this Wordle represents the responses members have given: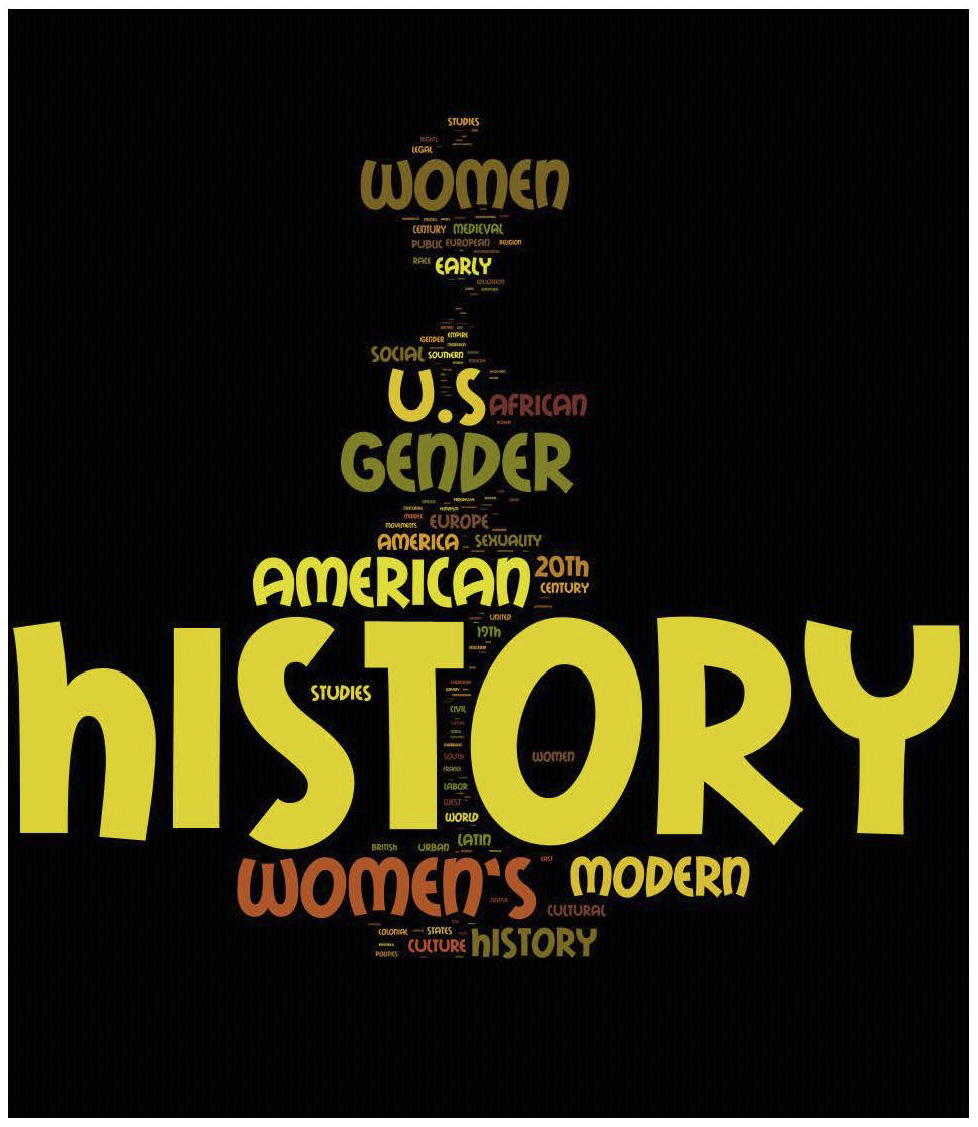 Just for fun, I also used Tagxedo to represent these key words as a map of the United States:
A review of these terms affirms my own view that women's history is a vibrant and eclectic space, and is a strong counterpoint to those who seek to pigeonhole historians who focus on women of the past. The Center has had a wide breadth of interests since its inception, and in the future it will continue to promote diversity in the narratives it highlights in women's education in the past. As the Center enters its new phase of growth I hope all of you will continue to support its mission to get women's history, particularly narratives that focus on education, noticed in the exciting sphere of digital humanities.
Thank you to all of you who have interacted with me in my work at the Center, its growth is also due to your interest and promotion.