Last week, I returned to Bryn Mawr after nearly a week in New York for the annual meeting of the American Historical Association (AHA). My meeting was a busy one — catching up with old friends and mentors, checking in with one of my other professional organizations (the Coordinating Council for Women in History), helping to organize THATCamp AHA, and chairing a panel on feminist work in digital history. It was an exhilarating and exhausting week. But despite the conference fatigue, I left New York feeling energized for the work I'll be taking on for the Greenfield Center this semester: teaching my first course, Higher Education for Women: Bryn Mawr and Beyond; advising students doing archives fieldwork as part of Bryn Mawr's Praxis program; continuing to work on the NEH-funded Seven Sisters digital project; and planning our May conference, Women's History in the Digital World 2015.
Perhaps because our conference CFP is due later this week, I spent a lot of time at AHA thinking about how conferences bring us together, and about how we can support each other and build audiences for our work. I spent much of my time on Twitter, like my colleague Shane Landrum, who argues, "Live-tweeting #AHA2015 is, for me, a way to turn note-taking into a tiny bit of professional service [and] make what we do more public and visible." It is also a way for me to promote digital projects that don't always receive attention (or funding).
So that's how I found myself, for the first time, live-tweeting while seated as panel chair at Session 159: Can DH Answer Our Questions: Using Digital Humanities to Address the Concerns of Feminist Historians. To audience members unfamiliar with the ways of the #twitterstorians, it would have looked surprising to see a panel chair typing away during each speaker's presentation, but in a meeting as heavily tweeted as AHA, I wanted the research of our three scholars — panel organizer Kathryn Falvo, Tamika Richeson, and Wendy E. Chmielewski — to be captured and shared as widely as possible. Indeed, the Storify that Kate Moore created to record our session serves as a useful tool for circulating the discussion beyond our conference room.
As the panelists made their remarks, I found myself scribbling down a new conclusion to my comments:
This panel convinces me more than ever before that we shouldn't have to fear the loss or muting of women's voices — both scholars and historical subjects — in the rise of digital history, but we do need to continue to be vigilant about getting our work out there. Over the weekend, I've been eyeing the digital workshop, sessions, lightning rounds, posters, and proposals coming in for Tuesday's THATCamp, and I've been thinking critically about the digital projects drawing the most attention and conversation. Do they take seriously histories of women, of gender, or sexuality? There's a reason you may have seen me tweeting during these presentation: We have to be researchers, digital historians, and promoters.
Michelle Moravec, who spoke at AHA about her practice of writing in public, made a similar point: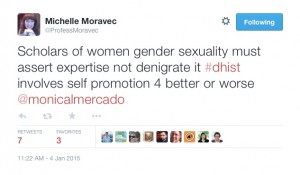 In that spirit, I'd like to share just a few of the digital projects dealing with histories of women, gender, and sexuality that caught my eye at AHA this year:
If you have a project to share, or are looking for possible collaborators and conversation partners, I encourage you to submit to Women's History in the Digital World this week, and to save the conference dates: May 21-22, 2015. I'm excited that the Greenfield Center can play a role in the work of promoting diverse projects in digital history; in the coming weeks, we'll be sharing details on scheduling, registration, and accommodations. In the meantime, we welcome your ideas and questions — in the comments below, or via email to greenfieldhwe [at] brynmawr [dot] edu.