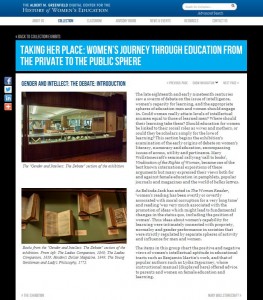 Taking Her Place has been open since January 28th, and in that time we've had some great feedback from alums, students, faculty, and members of the public. Among the visitors we were able to extend special welcomes to over the course of the semester were attendees of the
Women's History in the Digital World conference
, guests of
Bryn Mawr College Alumnae/i Reunion weekend
, and the
Women in Public Service Institute
. We especially loved hearing stories from the alumnae who came to the exhibition, some of whom shared recollections of people and events that are featured in Taking Her Place. We spoke with President Emeritus Pat McPherson about her memories of
Margaret Bailey Speer
, a graduate of the class of 1922 who went on to lead a Yenching Women's College in China until the second World War forced her return to the States. (She subsequently returned to the area as headmistress of the Shipley School just across the street from the College, and maintained a relationship with this institution for the rest of her life.) We learned many new things about the school's history from our enthusiastic attendees.
For those who would like to revisit the exhibition, or who never had a chance to view it in person, we're delighted to announce that an online version is now posted on our website!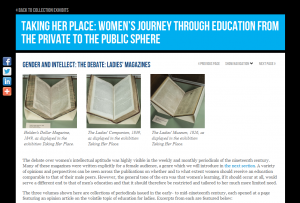 The digital exhibit follows the same narrative as the exhibition and includes all of the items that were displayed in the Rare Book Room gallery. However, the new online accommodates more text, which allowed us to give more information about the items. It also meant we were able to include some items that didn't make it into the physical exhibition: enjoy
browsing layout designs from before the show was constructed, links to additional oral history interviews, and images that we did not have space for in the gallery. We think it makes for an equally good, if not even better, viewing experience.
The exhibition can be viewed here and it will remain on our site indefinitely. Thank you to all who were able to view Taking Her Place, and we hope that those of you who didn't have the chance to see it in person will enjoy it as a digital resource!
As always, the co-curators from The Albert M. Greenfield Digital Center for the History of Women's Education are happy to take questions, either about the process of envisioning and executing the exhibition or on the history of the college and women's rise into the public sphere through education. If you're curious to learn more about the history of women's education and of Bryn Mawr College, take a look at some of the other exhibits and items from the collection that we feature on our site and keep an eye on this blog. Please write to GreenfieldHWE@brynmawr.edu, or follow us on Twitter @GreenfieldHWE to learn more about what we have planned next.