When the Digital Center's TriCoDH summer intern Brenna Levitin '16 last wrote about her project, she was in the early stages of researching Bryn Mawr's LGBT history. Recently, Brenna's focus has shifted to methods for acknowledging silence in the archives, and she is now looking at ways to use her final exhibition project to represent—not fill—that silence.
I've begun this blog post four times, each hoping that this iteration will be the one that gels—the one that sums up archival silence in just the right way. I've realized, however, that perhaps the problem is the subject matter itself. Archival silence is not an easy topic: each interaction illuminates a single page of history and three blank books. Perhaps that's why this blog post has been hard to write; after all, writing about what does not exist is difficult and an overwhelmingly foreign task to a fledgling historian.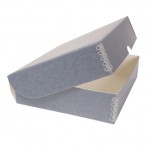 Historians are intimately familiar with silence; one of the first things which my historian major advisor reminded me to think about for this project was silence. Anyone who attempts to write from physical archives knows the weight of the silence contained within; anyone using oral histories acknowledges the silence from those who did not, would not, or could not volunteer.
My project uses what little the physical archives contains alongside oral histories, cross-referencing the two in an attempt to provide the fullest picture of Bryn Mawr's LGBT history possible. Even if I am able to confirm the veracity of the information, I still need a way of representing the silence. A truly complete image of history will never be reached for any subject, especially not for any study of minorities. Archives are writ by the victors, not the marginalized sexual minorities.
Last month, I explored this topic in an unconference session at PhillyDH@Penn. An animated group discussed visualizing archival silence and its inherent problems. We discussed how to make silence not just noticeable, but enticing; in a physical museum if viewers are invited to uncover something, they are often more likely to look at it. Moreover, the physicality of uncovering actively involves them in the process. They don't simply gaze passively at a blank space, wonder about it for a moment, and move on; instead they boldly take action, resulting in questioning their assumptions about history as a process and about the preservation of minority culture.
This method of inviting an action or inquiry of an empty or blank space also queers the act of disseminating history. By doing so, not only do we move away from static installations built of text and images; we provoke critical thought about the historical process. Readers are thus encouraged to think as historians, to critically consider the landscape of history as subjective and fluid. As we elucidate the history of queer experiences at Bryn Mawr, my hope is that we also illuminate the historical process. To me, digital humanities is all about making academia accessible. To illustrate archival gaps by revealing the silences and amplifying the voices of queer community members is a worthy goal.
Next week, Brenna's post will discuss the search for a technology to help document her findings and visualize silence.