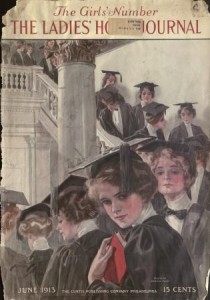 Opening January 28 until June 2nd 2013
Class of 1912 Rare Book Room,
Canaday Library, Bryn Mawr College
Exhibition hours daily 11 am – 4:30 pm
Open Wednesdays until 7.30pm during term time
Free
Taking Her Place is an exhibition dedicated to showcasing the history of women's education through the treasures of Bryn Mawr's collections of rare books, manuscript material, photographs, textiles, oral histories and art and artifacts. It opens on January 28th 2013 with a talk by renowned historian and biographer of M. Carey Thomas, Professor Helen Lefkowitz Horowitz, Professor Emerita at Smith College and a member of our Advisory Board. Her talk will be on 'Reading, Writing, Arithmetic … and Power: Education as Entry to the World". This will take place in Carpenter Library B21 at 5.30pm and all are welcome to attend. A reception at the Rare Book Room Gallery will follow.
Taking Her Place illuminates the story of women's access to the public world of employment and civic engagement through education, the key way in which women in the nineteenth and early twentieth centuries expanded their sphere beyond the confines of their homes. We trace the early origins of educational debates, feature the histories of famous alums, and show how Bryn Mawr grew into the diverse environment for women's education that it is today. This is an interactive exhibition and you will be able to link to further content online using smart phones or tablets.
There will be other events throughout the time the exhibition is showing, including a talk by Professor Elaine Showalter, Bryn Mawr College class of '62 and Avalon Foundation Professor Emerita, Princeton University, on Thursday April 18th 2013 at 5.30pm, also in Carpenter Library B21.
We are offering three guided tours by the co-curators as part of Alumnae Reunion Weekend where we will tell you more about our choice of objects, the themes of the exhibition, and can answer any questions you have. Please see the official calendar of events for further details. Further updates will also be provided on our site.