Bryn Mawr College is delighted to welcome Janice P. Nimura to campus on Tuesday, January 26, 2016. Nimura is the author of Daughters of the Samurai: A Journey From East to West and Back, published in 2015 by Norton. According to the publisher: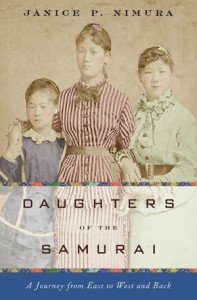 Daughters of the Samurai describes the journey begun in 1871, of five young girls who were sent by the Japanese government to the United States. Their mission: learn Western ways and return to help nurture a new generation of enlightened leaders in Japan. Raised in traditional samurai households during the turmoil of civil war, three of these unusual ambassadors—Sutematsu Yamakawa, Shige Nagai, and Ume Tsuda—grew up as typical American schoolgirls. Upon their arrival in San Francisco they became celebrities, their travels and traditional  clothing exclaimed over by newspapers across the nation. As they learned English and Western customs, their American friends grew to love them for their high spirits and intellectual brilliance. The passionate relationships they formed reveal an intimate world of cross-cultural fascination and connection. Ten years later, they returned to Japan—a land grown foreign to them—determined to revolutionize women's education. Based on in-depth archival research in Japan and in the United States, including decades of letters from between the three women and their American host families, Daughters of the Samurai is beautifully, cinematically written, a fascinating lens through which to view an extraordinary historical moment."
One of these young women, Ume Tsuda, attended Bryn Mawr College. Upon her return to Tokyo, she founded a similar institution for Japanese > women, which grew into the important and prestigious Tsuda College of today. The connection between Bryn Mawr and Tsuda Colleges has remained strong over the years and sparked a host of connections between Tri-Co colleges and Japan over the years.
Nimura will visit with staff and students in Taylor Hall from 1:30-2:30pm today, an informal opportunity to discuss the book and women's international education initiatives. She will also speak to students in HIST 303: History in Public: Race, Gender, and Campus Memory from 3-4pm.
For more on Japanese ties to U.S. women's education, read Febe Pamonag's 2012 article, "'A Bryn Mawr School in the East: Transpacific Initiatives for Japanese Women's Higher Education," in Pacific Historical Review 81.4 [link to full text on Tripod].
For more on Janice Nimura, visit the author's website.